Ee!
Everything is fine?
Today I bring you the new Portfolio Ebook: The Definitive Portfolio Guide 2.0.
The first version of the ebook was very well accepted and we had good feedback from most people who downloaded it, yet still could improve it and that's what we did in this second edition.
This new version aims to improve and optimize content that has been passed, fix some of the flaws we encounter, or find, and improve its reach so that more people can download it.
So below I detain the reasons for this new edition:
#1 - Reason: provide revised and up-to-date information
This was one of the strongest reasons: correcting writing errors. Galuchos, unfortunately I'm not a letrado of the academy of letters and also I make some mistakes, I know.
As Renato Russo would say: "I sing Portuguese wrong. I don't think the imperfect is part of the past. I change people. I change the pronouns"
I actually when I write I try to do it as right as possible. I try to avoid mistakes, but unfortunately sometimes they pass. For lack of time I usually write directly here and as sometimes it seems that my thought lives at the speed of light while my hands are at the speed of sound, always passes something or I forget to adjust, to delete something ... finally...
I always ask the blog contributor the Edmilson, help me review. In the specific case of the ebook , as we worked so long on it, I think we were a little "blind" and ended up not seeing some small mistakes.
This new version came to kill these errors seen in the first ebook.  🙂
I also want to make it clear that I use colloquial, informal language. I want my message to be transmitted and understood by the largest number of people, of various ages, from various regions...
That's why I believe that the simpler I am, the closer I get to that goal. So if you search for texts à la Machado de Assis, sorry, it will not be here that you will find.
#2 - Reason: Unify all content in one ebook
In order to improve and optimize content, we also unify all content into ebook only.
Those who downloaded the previous version know that in addition to the ebook we still made available three more bonuses talking about errors and giving tips for resumes and etc. This new version brings all the contents of the old ebook plus the content of the three bonuses. All revised and updated.
With this you will receive in only one email and in only one file all the content created by the people here of the Chief.
#3 - Reason: reach more people
The ebook was launching almost at the same instant as the blog. At that time the blog was smaller, did not have the reach it has today. I know that there is still a long way to get to the level I want, but I am super happy with the growth and recognition that the blog has been conquering.
I believe that in this second release we will raise more people and so in addition to the blog grow even more we will also help more people.
This portfolio issue may seem to some somewhat trivial, etc.; but she's super important. And from the e-mails I've already received, I could see how many people I've helped with this small but :), contribution.
With this new version I hope to reach out and help more people. 🙂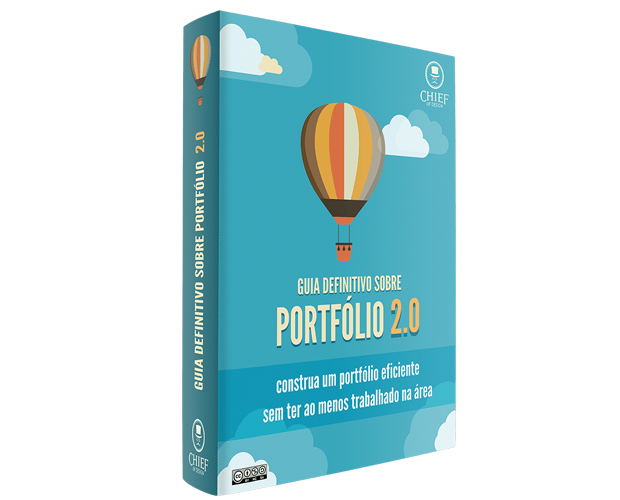 Final considerations
The blog Chief of Design is a completely free content channel. The blog is not monetized, it does not yield, directly, no real. So I David Arty not live from the blog, on the contrary, he who lives on me hehe.
I do not know how long it will be so, just know that the flagship of the blog will always be the free content.
So, like most of you, I have a job that I go in at 9:00 a.m. and leave at 6:00 p.m. Monday through Friday, with goals and goals to accomplish. I am currently in the last semester of the Graphic Design course and also until last month (September) I taught classes on Saturdays full time (from 08h to 18h). Joins all this my personal life (have to give affection to my brunette, right?) and social (there is no missing on a birthday or wedding of a friend) my time gets a little sparse 🙁 . And as the Edmilson: "And still does gym" hehehe (if you follow me on Instagram may have already noticed 😛 ).
I'm not using these factors to justify, victimize or cry for the errors of the previous version of the ebook and also those that perhaps occur here on the blog.
I know that if I'm willing to offer content, I have to do it in the best way, regardless of what I mentioned above. I have responsibility to you.
However, I am also aware that such factors interfere, directly or indirectly, sometimes here in the income on the blog. Whether I like it or not.
So if you see any mistakes or have seen something that can be improved, do not be able and can contact me through the emails provided here. I will respond as soon as possible.
So that's it, Galuchos.
Download and read the new Ebook: Definitive Guide to Portfolio 2.0.
If you like the content share with your friends and also leave your comment.
Your feedback is very important for the evolution of the blog.
Strong hug.
Until later!